"DURABILITY DEPENDS ON USER" - TABLET PRESS PUNCH AND DIE ARE NOT EXCEPTION
In tablet press, quality of punchs will impact on the final products. Beside choosing the right and reliable punchs and die, it is necessary to store and use the punchs in a scientific and reasonable rule to maintain the reliability and quality of the punch set, thereby providing maximum quality for tablet products and save on factory production costs.
Below, Punchs and Die Supplier Natoli will figure out factors affecting the durability, and base on that, we could take our own summarize on how to long-last your punch and save a lot of money.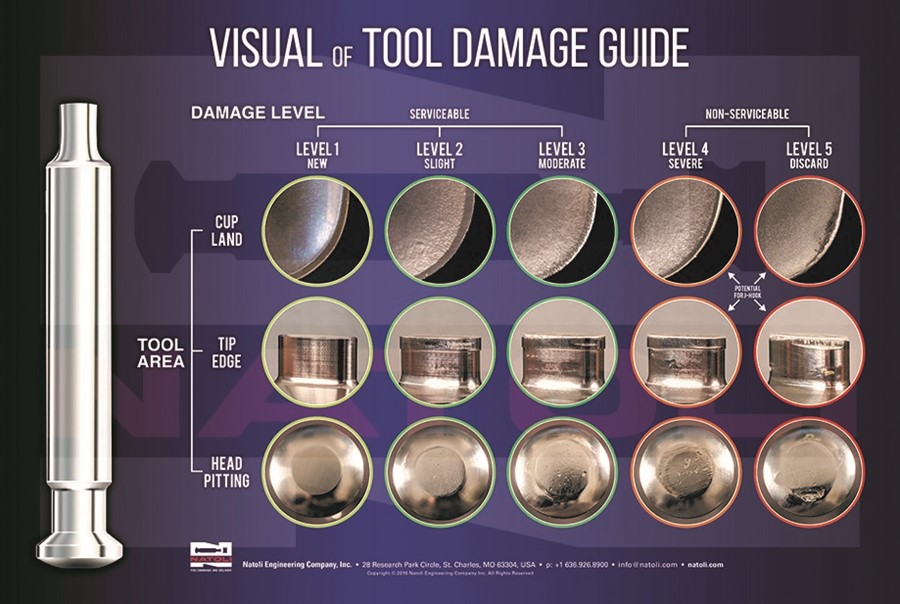 Tooling life and performance is dependent on many factors:
Product compressibility (easy or hard to compress).
Nature of formulation, such as abrasive, corrosive,etc.
Alignment of tooling in tablet press.
Condition of tablet press.
Maintenance of tooling including cleaning and storage.
1. Product Compressibility:
Some products have poor compressibility that cause operators over compressing to achieve desired results. Applying compression force more than designed/recommended value may cause tip fracture impacting tooling life.
2. Nature of Formulation:
There are some formulation that can corrode punches and dies in no time immaterial of steel used, product such as ferrous sulphate results in shortest tool life.
3. Alignment of tooling : For installing tooling in tablet press. misalignment can cause flashing in tablets and other severe consequenses.
Picture 1: Flashing on the edge of tablet press.
4. Condition of tablet press: Tablet press condition significantly impacts tool wear and tear. Example, if cams are clogged in powder or running tight, inside head angle gets damaged.
5. Maintenance : If punches are not inspected for defects such as J Hook they may cause capping in tablets, undetected die rings can cause tablet puffing and if tooling not cleaned immediately after compressing and left on the machine for some time can cause punch discolouration or spotting.
Picture 2: Cappng Tablet
These factors cannot be controlled by tooling or tooling manufacturer, you will agree, they do determine tooling life and its performance.
As a tooling manufacturer we can confirm strict adherence to specification, resolve compression challenges by providing functional tablet design and right steel depending on product to be compressed.
A good tool design (as per required application) with right steel, good heat treatment will increase tooling life, provided the end user also follows recommended operating guidelines.
Hence it would be incorrect to confirm number of tablets that can be produced, as its not the tooling alone that can be responsible for failure.
In right conditions, we have had 650 + million tablets produced from our tooling and still going strong.
In another example, I have seen customer using our tooling for over 10 years without any problems to it.
Therefore, more than Natoli (tooling manufacturer) customer knows their formulation, operators skills and condition of their tablet press.

 DISCOVER THE POWER BEHIND A NATOLI PUNCH
For more info: Call: (+84)934098856 Mr. Khang Email: khang.cao@tientuan.com.vn